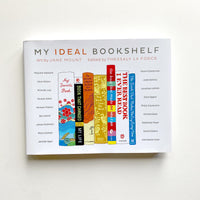 My Ideal Bookshelf - SIGNED
Description
This is Jane's first book, woohoo! It was first published (by Little, Brown) in 2012. You can get it on Bookshop.org, Amazon, at Barnes & Noble, and at many excellent indie bookstores everywhere, for less money than this.

But if you'd like to have a copy of it signed by Jane, this is the place to order it!

Please let us know in the field below whether Jane should just sign her name, or if you'd like her to inscribe it to someone (i.e., "For Madison, with all the best", etc.). If inscribed, let us know the name of the person.
PLEASE NOTE: We're very happy to ship a book to Europe, Asia, Australia, or anywhere else, but unfortunately it costs a lot more to get it there in a reasonable time. We don't want to raise the shipping prices across the board for all orders going outside North America, so instead we've added the supplemental cost here, as a purchasing option in the dropdown menu below.
____
The books that we choose to keep -- let alone read -- can say a lot about who we are and how we see ourselves. In My Ideal Bookshelf, dozens of leading cultural figures share the books that matter to them most; books that define their dreams and ambitions and in many cases helped them find their way in the world.

Contributors include Malcolm Gladwell, Thomas Keller, Michael Chabon, Alice Waters, James Patterson, Maira Kalman, Judd Apatow, Chuck Klosterman, Miranda July, Alex Ross, Nancy Pearl, David Chang, Patti Smith, Jennifer Egan, and Dave Eggers, among many others.

With colorful and endearingly hand-rendered images of book spines by Jane Mount, and first-person commentary from all the contributors, this is a perfect gift for avid readers, writers, and all who have known the influence of a great book.